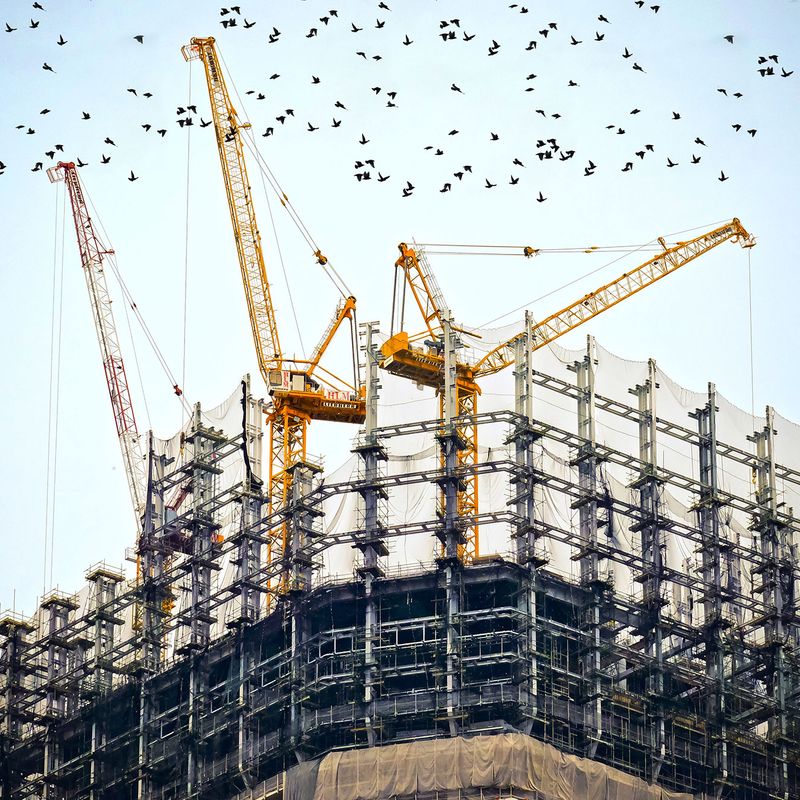 It is very plain to see that Manchester is alive with tower cranes,many of which you will see are on city centre high-rise PRS and student accommodation sites. Perhaps people are looking at how long this "bubble" may continue and when we will return to the almost overnight slowdown in this sector that we saw in Manchester in 2008.
Many will have an awareness of this but it seems that there is real visibility in this market for the medium term as Manchester continues to attract significant investment. It would seem that this surge in "accommodation" building has a few more years left yet and, the great city that Manchester is, will continue to be that vibrant and exciting place to be!
Picture source: constructionnews.co.uk
PRS
There has been a whopping 400% increase in the construction of residential units in Manchester in the last 2 years with PRS (Private Rental Sector) accommodation dominating the way. Paul Beardmore Chief Executive of Manchester Place (Manchester City Council investment agency) says: "The work we have done on population growth in the city shows that the demand is absolutely there. All of our agents are giving us the same message: they can't get their hands on new apartments quickly enough." Investors from the Far East are "still very active in the city centre market", he added.
It is predicted that there will be a 220% increase in city centre completions by the end of March 2018. High-profile schemes include East Consortiums 756 unit development at Angel Meadow including a 41 storey skyscraper and Oxygen Tower with 357 units (Property Alliance Group) to name a few.
Image by Falconer Chester Hall from Place North West
Student Accommodation
Student accommodation has changed drastically from the "cheap" and "grotty" looking accommodation into more luxury and high-spec flats and this continues to grow. Student accommodation, particularly PBSA (Purpose-Built Student Accommodation) is currently worth £46bn in the UK and will be worth £47bn by the end of this year. Investment in PBSA has doubled in the last 2 years and will only continue to grow.
This is the largest emerging sector within property investment. High-profile student accommodation includes a 30 storey SimpsonHaugh-designed student accommodation tower at New Wakefield Street by Unite, a 37 storey Hodder-designed student accommodation tower – Liberty Heights – at 1 Great Marlborough Street, which was developed by Student Castle during the last recession. And last but not least, Vita 716 ultra-modern flats, part of the £750m Circle Square development.
Picture source:constructionnews.co.uk
Other projects in Manchester:
£153m Angel Gardens 466 apartment private and rented scheme
£200m Angel Meadow project with 750 apartments with retail and leisure space
The NOMA/Angel Meadows project comprising of skyscraper apartments, offices and public space. This will include a 36-storey, 458 apartment development and a 13 storey block of offices
Ancoats, in New Islington includes a 31 storey sky-scraper which will feature 345 new flats, 12 townhouses and its own allotments
The Plaza which is a 10 storey development with 201 new apartments
Deansgate/Spinningfields development including skyscrapers, offices, hotels, arts venues and green space
£1.3bn vertical village towers
£34m refurbishment of Hanover Building and Federation House
Picture source: rightmove.co.uk
Harvey Lawrence – Opportunities in Manchester
The last two years has seen us leading recruitment drives for some of the key brands in these sectors. We were also leading recruitment in Manchester in the previous accommodation boom of 2005 – 2008.
It is a market we understand and have a long-standing knowledge of. Our roots are in Manchester, it is where our business began and where we have always had a huge focus and contact base.
We are proud to have recently recruited for senior roles such as: Project Directors for high-rise residential schemes in excess of £100m, Commercial Managers managing portfolios in excess of £150m and various quantity surveying, site and design management roles.
Sarah Harvey, owner of Harvey Lawrence commented: "Having lived in Manchester for 20 years and having spent my entire construction recruitment career focusing on Manchester, it is an area that has always been at the top of our agenda and part of our overall business strategy. I am very proud that we have succeeded in maintaining some very strong relationships with key players in the region. Clients come to us as they have the confidence in our presence and in the way we do business. As a Director told me the other day, we listen to the brief and deliver. For me, if you are looking for a job or staff, this is what good recruitment is all about and it will continue to be at the heart of what we do."
There are some very significant and even iconic schemes that are happening in Manchester with even more in the pipeline. For those that want to advance their careers and be part of challenging schemes, there is definite opportunity and career advancement to be made. Working on projects in busy sectors with well – respected brands clearly is great for the development of a good CV and sustained and long-term advancement and earning potential.
Like anything, being in the right place at the right time has a part to play and Manchester is definitely the place to be.
Feature image sourced at rightmove.co.uk