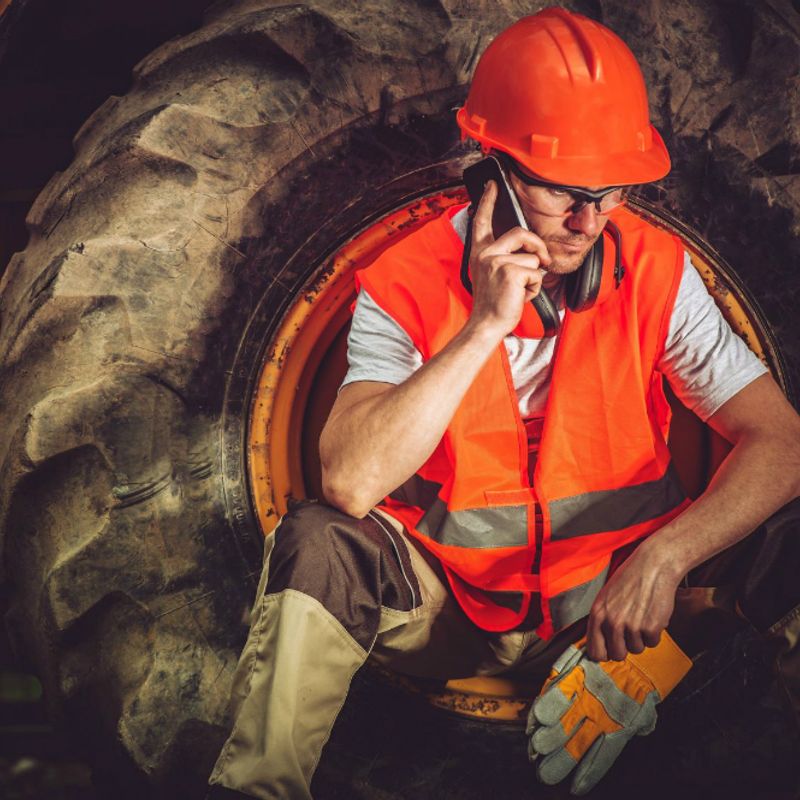 world health day, mental health awareness week, suicide in the construction industry...
The risk of suicide in the construction industry and building trade is 1.6 times higher than the UK average.
Let's just think about that for a second, 1.6 times higher!
For roofers, tilers and slaters the risk rises to 2.7 times higher. This isn't a coincidence, something in the industry is going catastrophically wrong and more organisations are realising that it is time that something is done to address these issues. With World Health Day fresh in our minds and Mental Health Awareness Week around the corner in May (13th-19th), it is a good time to take a look at mental health and the wellbeing of those around us.
Why is the suicide rate so high in construction?
Firstly, 75% of all suicides in the UK are male, it is the biggest killer of men under 50, with those over 40 at the highest risk. Bearing in mind that the construction industry is male dominated it isn't surprising that the rate is higher.
One factor that is repeatedly highlighted is the "macho" nature of the industry. It has been drummed into men for years that "boys don't cry". This has translated to not talking about issues, thoughts and feelings which in turn can escalate into isolation and depression. For many years it has been considered weak for a man to have mental health issues and that he should "just get on with it". It is easy to see how a person's wellbeing is not really a concern for people adopting this mindset, perhaps not understanding the negative effect it has until it is too late.
Another reason cited for the high suicide rate is the hire and fire attitude in the construction industry; particularly for manual workers. For a middle-aged male working to support himself and his family, fear of losing his income or not knowing where the next pay-check will come from can be a source of great stress. There is an assumption, rightly or wrongly, that admitting a mental health issue could put them at greater risk of being laid off, therefore keeping their head down feels like the only option.
Finally, coupled with feeling unable to talk about any feelings of stress, anxiety or depression, workers may not know how to even go about it. Starting the conversation about mental health is incredibly difficult no matter who you are, but if you have no idea where to start, no prompts or support it makes this crucial first step virtually impossible.
Times are changing
Thankfully, partly due to a number of high-profile initiatives, it is finally being recognised that more support is needed within the construction industry to assist those who need it most. Terry Rigby, Director and Founder of Forward for Life states "The problem itself isn't the problem. The problem is not recognising the problem as a problem that can be overcome through an achievable solution."
With the right training and experience, it is possible for employers to catch mental health warning signs early and to prevent a worker from going down the dark lonely path to depression or suicide.
How can you help?
Sadly, there is still a stigma surrounding mental health issues but if the industry can chip away at this little by little, eventually mental health will be seen as no less a weakness than say catching the flu.
There are numerous tools and best practices available to support your staff.
Best Practice -
Encourage staff to talk
Do your staff feel that they could talk to someone if they are feeling stressed, overwhelmed or even depressed? Make it clear that they are supported, have a section in your employee handbook specifically addressing mental health. Put posters up in site cabins to remind people that they are not alone. Some companies have started men's support groups. Talk about mental health, lead by example and show that there is no shame in feeling stressed out.
The Considerate Constructors Scheme have reported on some fantastic employer stories and what they are doing to support staff.
Prevention is better than cure
If you can, appoint and train a mental health first aider, or several depending on the size of your organisation. Not every organisation has the luxury of a trained mental health first aider to spot the tell-tale signs of stress and anxiety but having one could be the difference between losing a team member or not. MHFA are rolling out training to many construction organisations throughout England.
Ensure all staff are educated in the signs so that they are equipped to notice the first signs of mental health illness and to ask if a colleague is okay if their behaviour alters.
If flexible working is an option, this is a great way for employees to regain balance between work, family and wellbeing. All too often, once work and family are taken care of in the working week there is rarely time for anything else. Building in even just half an hour a day to focus on exercise, time away from site, mindfulness can be the difference between a healthy and productive worker or a burnt out one.
Join the action and be part of the solution
The charity Mates in Mind was set up specifically to support construction workers calling time on outdated attitudes. They work with charities such as Mind and the Samaritans to help employers understand the options available to them to help support their staff. There is a handy tools section on their website guiding you through how to become part of the solution. Companies can join Mates in Mind to fight the stigma and raise awareness.
The Building Mental Health Charter is another organisation that companies can join to show their support of the movement to improve mental health in construction. By joining you have access to a number of tools to help you to support your staff. They work with charities such as Mind, Heads Together and The Duke and Duchess of Cambridge and The Duke and Duchess of Sussex.
Why not set yourself a target to adopt some of the best practices and help to ensure your workers feel supported? Let's get talking about mental health, it's okay not to be okay.
Useful resources
https://www.mind.org.uk/?gclid=CjwKCAjwy7vlBRACEiwAZvdx9p7Duv4s_d1oV2tz_hOLEbKGbyl-ApMZCuKpCqGkxPmThQduDtay_BoC-tEQAvD_BwE
https://www.headstogether.org.uk/?gclid=CjwKCAjwy7vlBRACEiwAZvdx9tX4yfd1xH-wy4Pi4GG1aWnmQkc2GkCZBvuqaWxt5Sh1JDyKoVCf0RoCE50QAvD_BwE
https://www.royalfoundation.com/
https://www.constructionnews.co.uk/news/data-news/suicide-statistics-a-wake-up-call-for-construction-28-03-2017/